Racism Reporting with SpeakOut Nelson Tasman
Speak Out Nelson Tasman (SONT) provides a user-friendly way to report racist incidents. Reports can be made by the victim, a witness or support person on behalf of the victim. Reporting of incidents is important whether or not the victim wants anything done about it as it provides important information to assist the police and other agencies regarding the extent of this problem and ways to address it.
What is a Racist Incident? Any incident when someone is treated badly due to the way they look, how they speak or where they are from. Any incident which is perceived to be racist by the victim or any other person.
Reporting can be done confidentially online at www.speakout.org.nz, by free phone call 0508 Speak Out (0508 773 256) or face to face at one of the community centres listed on the Speak Out Nelson Tasman website.
All reports will be logged by the Human Rights Commission. Victims can choose to remain anonymous, if they wish, or provide their personal details for follow up purposes (e.g. counseling or police).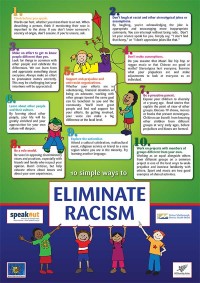 Resources