Community Events
Multicultural Nelson Tasman (MNT) organises festivals and is involved in community events. If you would like to hold a community event in conjunction with us or advertise your event on our Facebook page, please contact us.
Cross Cultural Awareness Workshop
Friday 17 Jun 2022, 9.15am-4.30pm, Fairfield House, Van Diemen Street, Nelson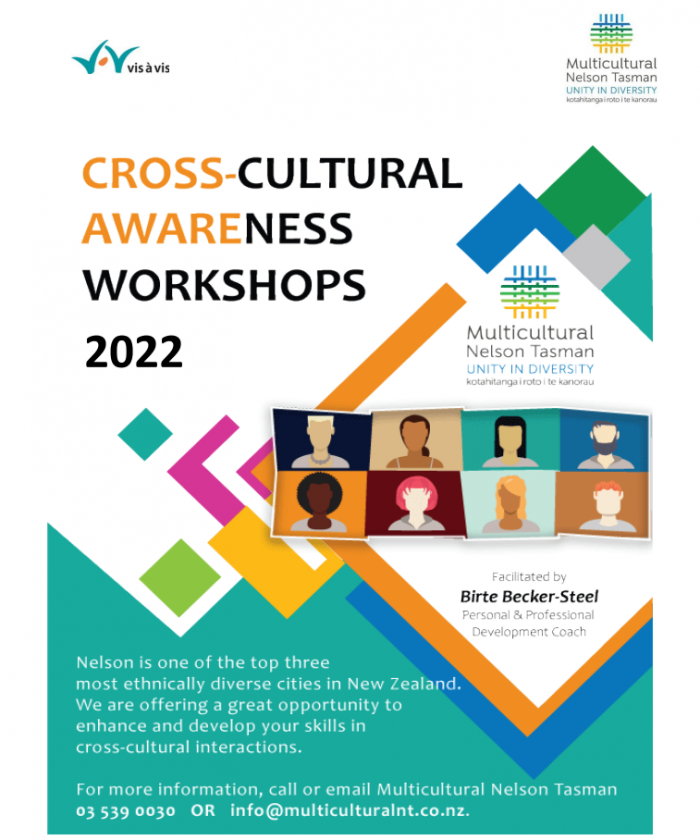 The Nelson-Tasman region is home to people from many different ethnicities who live, work and volunteer together. In our increasingly mobile, globally connected world, the ability to understand the culture and culture-related behaviour is a core skill for successful personal as well as professional interactions.

Increase your Cultural Intelligence to be ready for life in a diverse society.
In this one-day workshop you will…
reflect on your own cultural identity and the impact of beliefs and values,
increase your knowledge about culturally related behaviour and gain insight into
cultural traits beyond confining stereotypes,
get to know models and tools to compare and understand cultures better,
learn about appropriate ways to communicate in different settings and minimize
misunderstandings.
This workshop will be facilitated by Birte Becker-Steel. A Social Worker by trade, Birte has 20+ years of experience developing and facilitating workshops, trainings, and events. She is an enthusiastic person with a strong passion for life-long learning. Working with people from many different countries, providing settling in support for 8+ years and settling into a small rural community as a migrant herself taught her a lot about the relevance of cultural competence. Birte embraces diversity and she considers inclusion the key factor to enhance individual well-being and community resilience.
Email admin@multiculturalnt.co.nz to book your space now!