Community Events
Multicultural Nelson Tasman (MNT) organises festivals and is involved in community events. If you would like to hold a community event in conjunction with us or advertise your event on our Facebook page, please contact us.
Support Ukraine Art Auction!
Thursday 25 Aug 2022, 6.00pm-9.00pm, Nelson Centre of Musical Arts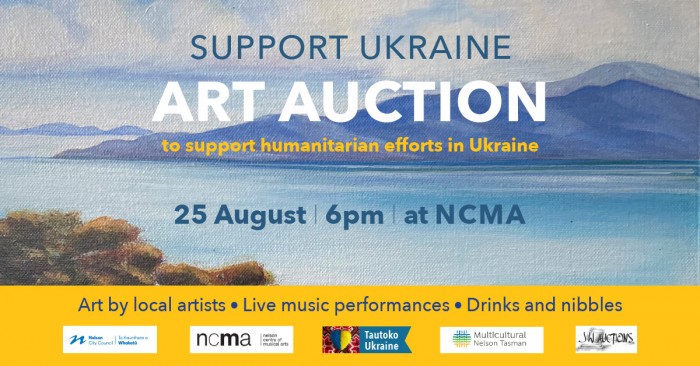 Support Ukraine Art Auction!
An art auction is organised on Thursday, 25 August to raise funds for humanitarian aid in Ukraine.
Multicultural Tree Planting
Saturday 27 Aug 2022, 1.00pm-3.00pm, Mahitahi Wetland, adjacent to the Maitai Campground, Maitai Valley Road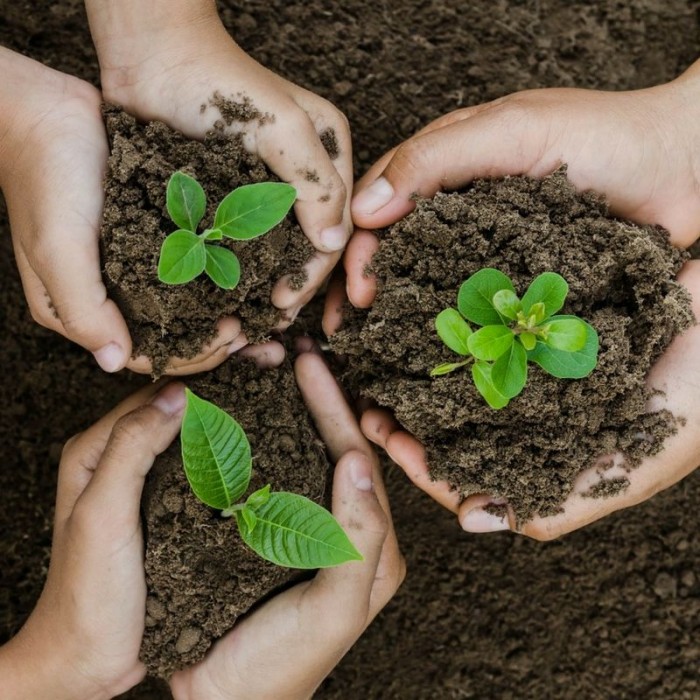 Nelson City Council and Ministry for Primary Industries, in partnership with Multicultural Nelson Tasman and Friends of the Maitai invite you to join the Community Planting Day.
This is to commemorate all those who have journeyed to Aotearoa New Zealand over time, to make Whakatu Nelson their home.
27 August 2022 from 1:00 pm to 3:00 pm Mahitahi Wetland, adjacent to the Maitai Campground, Maitai Valley Road
Bring your family and friends and help plant 1000 trees. We will provide food and refreshments, as well as some activities for the kids.
Wear warm clothes and sturdy footwear.
Morning Tea for Newcomers
Wednesday 31 Aug 2022, 10.00am-11.00am, Multicultural Nelson Tasman, 3/63 Collingwood Street, Nelson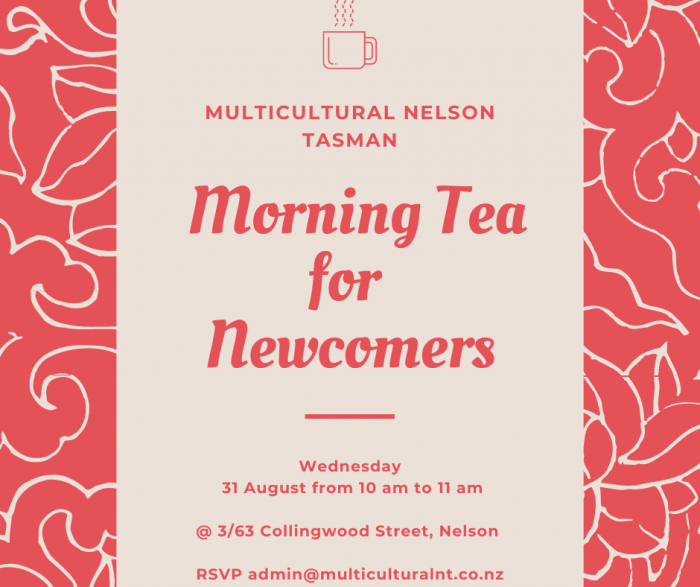 Are you new to Nelson?

This is a wonderful way to enjoy a hot drink while meeting new people - everyone is welcome.
The Morning Tea for newcomers will be held on Wednesday, 31 August from 10 am to 11 am. Pop into our office at 3/63 Collingwood Street, Nelson.
Multicultural Nelson Tasman would love to provide newcomers support, advocacy and navigation to relevant agencies, to support people's settlement process as well as opportunities to connect.
You can also get to know more about who we are and what we do!
Please RSVP to admin@multiculturalnt.co.nz if you would like to attend.
Multicultural Kai Class & Korero - Indonesian Cuisine with Mini and Feni
Saturday 03 Sep 2022, 12.30pm-3.30pm, The Food Factory, 11 Findlay Place, Stoke, Nelson 7011
Join our first "Multicultural Kai Class & Korero" of the year on Saturday, 3 September from 12.30 to 3.30 pm at the Food Factory (behind Pics Peanut Butter) with Mini and Feni who will teach us Indonesian cuisine.
This is to get our foodies in Nelson Tasman excited about learning some new ethnic dishes - and having a chat about the culture behind the chef at the same time.
Space is limited, the event is interactive and you will get to learn to cook the dishes as well as eat them, and no doubt enjoy some excellent conversations on the day.
The price is $30 per person which covers absolutely everything, and the class runs from 12.30 pm to 3.30 pm (apx).
Get back to us if you wish to join our Kai Class and Korero, email: admin@multiculturalnt.co.nz for registration.